Florida Glass
Vinyl-Laminated 18x14 Insect Screen
Functions as a privacy screen
For use in lower enclosure panels in Florida Screen Enclosures
Keeps debris out of enclosure areas
Easy to install
We sell only 1st quality Phifer material. However, Phifers grading criteria allows for various defects within a roll. Rolls may be up to 2 pieces per roll. Not all rolls are continuous. Please call with specific questions regarding the manufactures grading criteria. We do NOT warranty product beyond the manufactures specified defect allowance.

Vinyl Laminated 18x14 Charcoal Screen

Phifer Item:

Color:

We Stock 100', 50' and 25' rolls.
Phifer GlasShield is also refered to as "Florida Glass"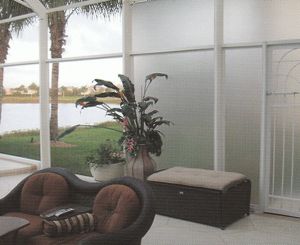 Phifer is the world leader in fiberglass, aluminum, steel and extruded vinyl coated polyester screening.