Now with Microban
Insect Screen Material

Product Information Section for Phifer Inc. Products
For all your Window Screen and Solar Screen Needs!

Instant Relief From the Sun's Heat - SunTex is a unique woven mesh that can block 80-90% of the sun's hot rays before they enter your windows. SunTex is ideal for use as a shading fabric on windows, doors and porches. A heavy-duty shading fabric, SunTex is also pet resistant. SunTex exterior shading fabric is made of strong vinyl-coated polyester. Developed originally for use in outdoor furniture, SunTex is mildew and fade resistant and needs only an occasional cleaning with mild soap and water. (Phifer Suntex 80 Catalog) (Phifer Suntex 90 Catalog)

Phifer SunScreen is a woven vinyl-Coated fiberglass screening manufactured for the primary use of reducing solar heat gain in the summer and reducing heat loss in the winter. SunScreen absorbs and dissipates up to 70% of the sun's heat and glare before it reaches the window. SunScreen is easily installed on any type and size of window and also performes as an insect screening.

Phifer Solar Insect Screening offers the ultimate in insect protection while at the same time stopping up to 65% of the sun's heat and glare. This fabric also improves daytime privacy while offering excellent outward visibility. Phifer Solar Insect Screen works whether windows are open or closed.

Phifer Inc. - Super Solar & Super Solar Plus+ - Solar Screen - The Ultimate in Shading Protection. Phifer Super Solar Screening offers the ultimate in shading protection by blocking up to 90% of the sun's heat. This fabric also improves daytime privacy while offering outward visibility. Phifer Super Solar Screening works whether windows are open or closed. It keeps carpets and draperies from fading, as well as helps save energy. Openness factor approximately 10% and UV blockage is approximately 90%.
Phifer "Pet Screen" meets the needs of pet owners by resisting tears and punctures caused by dogs and cats. Made of strong vinyl-coated polyester, "Pet Screen" is seven times stronger than traditional insect screening and offers excellent outward visibility. Ideal for those areas prime for potential damage and heavy wear in high traffic areas, this screen can be used on screened window screens, screen doors and screened porches.

Phifer - Tuff Screen formerly known as Pet Screen Lite
Tuff Screen is Pet-Resistant Insect Screening. Phifer "Tuff Screen " . Ideal for those areas prime for potential damage and heavy wear in high traffic areas, this screen can be used on screened window screens, screen doors and screened porches.

Phifer UltraVue: An Innovative Insect Screen with A great View. For Windows and Doors. the mesh is woven from, refined yarns that improve the screens openness, making visibility sharper and more brilliant. Better InsectProtection, Better Air Flow and Clearer View compared to standard fiberglass insect screen.

BetterVue is Phifers first improved visibility insect screen for windows, doors, patios and porches. This screening product does for windows, doors and patios what high-definition technology has done for television viewing: it maximizes the view by making it sharper and more brilliant. Phifer - BetterVue, Improved Visibility Insect Screen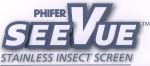 SeeVue™
Phifer's new SeeVue Stainless Steel Porch Screen offers improved outward visibility over other retail screening products on the market today. While this product keeps harmful insects out, it allow superior air flow. With incredible durability and strenght, stainless steel screen is excellent for porch, window and door applications and is safe to use with pressure treated lumber. This screen is hardly noticeable on home and building exteriors, providing great curb appeal, and is easy to clean.
Black Aluminum Insect Screen
Black Aluminum Screen offers the best outward visibility available in an aluminum insect screening product. Produced with Phifer Wire's Electrodepostion paint system, Black Aluminum screen has a premium coating that is durable and has excellent weathering characterisctics. This is the consumer's first choice for the best exterior view.
Brite Kote - Brite Aluminum Insect Screen
Brite Aluminum Screen is the traditional screening product for the fenestration markets. The finish is uniform and makes for easy fabrication into window screens, door screens and porch screen applications.
Vista Weave - Charcoal Aluminum Insect Screen
Charcoal Aluminum Screen is coated with rich charcoal finish in Phifer's electrdepostion paint system. The glare is reduced by the dark color, which improves the outward visibility. The consistent finish of the screen gives it an architech pleasing appearance.
18x16 - Standard Mesh Fiberglass for Windows and Doors
This standard fiberglass screen is the mesh applied in most window and doors. Easily fabricated, this high-quality standard mesh is the prefered insect screening in the fenestration industry.
18x14 - Pool & Patio Fiberglass Insect Screen
Pool, Patio and Porch Screen is stronger than standard window and door screen, making it the ideal screen for large openings such as screen porches, and patio and pool enclosures. Designed for applicataions where extra strength is desirable.
20x20 No-See-Um Mesh Fiberglass Insect Screen
This fiberglass insect screen is a tightly woven mesh designed to control tiny insects. While densely woven, this insect screen still allows good ventilation and visibility and provides some daytime privacy.

Phifer Bronze Screen is made of 90% copper and 10% zinc to provide strength and durability. This screen weathers to a beautiful dark bronze finish. A metal screen that resists corrosion, Bronze Screen is ideal for unique architectural accents. Excellent choice for inland and coastal regions.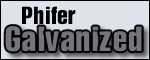 Galvanized Screen Wire
Glavanized 18x14 Steel Screen
Extra Strength Steel Wire Is Stronger Than Aluminum in Every Application. Use when you require an extra strength material with good durability. This is a tough, .009 gauge, 18 x 14 mesh electro-galvanized material that is stronger than aluminum or fiberglass screen wire.
Florida Glass / Glas-Shield Vinyl-Laminated 18x14 Insect Screen
Functions as a privacy screen
For use in lower enclosure panels
Keeps debris out of enclosure areas
Easy to install
Wholesale Program:
We offer our products to everyone. Dealers, Contractors, Screen Shops and Do-It-Yourself home owners. We ship everywhere throughout the US. Quantity pricing is available. If you need Window Screening or Solar Screening products, we're your one stop spot.